Description
Drag race 6-point Mustang roll bar, with MM's exclusive easily-removable door bars, and a fixed harness mount tube welded in place. Fits 2005-2014 Mustang coupe.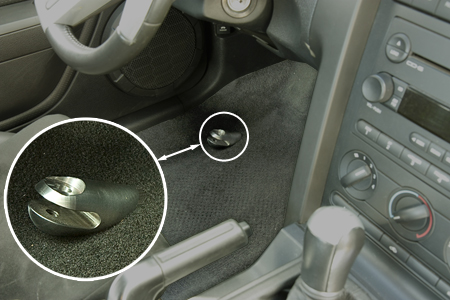 This Mustang Roll Bar:
6-point
E-Z-Remove door bars
Fixed harness mount tube
Meets NHRA and NMRA rules for drag racing
Does not fit Mustangs with the Glass Roof option because the headliner in those Mustangs is considerably lower and interferes with the main hoop.
2013 Note: Ford changed the interior plastic of the 2013 model year hardtop Mustangs. While all of the MM roll bars fit the 2013 models, we have not yet updated the installation instructions to show the new procedure required to trim the interior plastic around the rear braces.
Click here to see 2005-2014 Mustang hardtop roll bar installation photos.
Click here to read 2005-2014 Mustang hardtop roll bar installation instructions.
The Tech Info button below provides more technical information on MM Roll Bars.
Features
Each E-Z-Remove door bar is held in place with two bolts. Remove them and the door bar is gone in seconds.
Notes
Any model roll bar that does not include high-mounted door bars and have a welded-in harness mount brace does not meet the NHRA or NMRA rules.
Roll bars should have padding wherever any part of an occupant's body may come into contact with the steel tubing. This includes hands, feet, arms, and legs, not just the occupants' heads. Click here for roll bar padding.
Special-Order Option
Diagonal Brace: Located in the plane of the main hoop, the welded-on diagonal brace greatly improves rollover protection and increases chassis rigidity. Made from 1-3/4″ diameter by 0.134″ wall DOM tube.
To order a Diagonal Brace, select the "Diagonal Brace Option" checkbox before adding to your shopping cart: Click here to read about the diagonal brace.
We do not stock roll bars with the special-order options. Allow 6 weeks for manufacturing.
Shipping
The 2005-2014 Mustang roll bars ship by UPS, not truck freight.
Shipping charges for 48-state standard delivery of MM roll bars is now standardized.
Residential: $150
Commercial: $100
For delivery outside the 48-state area, or any expedited shipping, we will contact you about the additional shipping charges. You must respond with approval of those additional charges before we will continue processing your order.
Important: The freight company defines what is and is not a commercial address, not you.The freight company's decision is final; there is no appeal.
Please completely fill out your "Ship To" address. The information listed below is always required by the freight company. Providing it when placing your order will allow us to process your order in a timely manner, without extra back-and-forth communications.
When shipping to a Residential address:
Name
Street address
Phone number (Best number where you can be reached by the freight company)
When shipping to a Commercial address:
Business Name
Attention to, if applicable
Commercial street address
Commercial phone number (The phone number at the delivery address, so the freight company can call to schedule a delivery time)